← Back to previous page
Discovering stories
... La Chevrière de Gruyères ...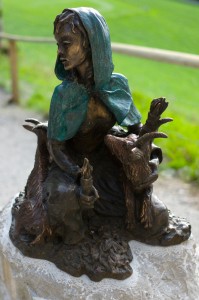 Sculpture and legend to discover the entrance to the Castle of Gruyères, Porte du belluardus. Work of the artist Sara.H
www.sarah.ch
Au cours de la guerre d'Everdes (1349),
du nom de la seigneurie d'Othon, vassal du Comte de Gruyères,
une violente bataille oppose les Gruériens aux Fribourgeois
aidés des troupes bernoises qui marchent, la nuit venue,
sur la colline de Gruyères. Les femmes sont seules
avec leurs chèvres à l'intérieur de la ville assiégée.
La légende raconte qu'une femme a eu une idée folle:
''Attachons des torches aux cornes des chèvres et
chassons-les vers les Bernois''.
Lâché par la porte du Belluard,
le troupeau dévale la colline au cœur de la nuit.
Les Bernois s'enfuient devant cette armée du diable
qui vole au secours des Gruériens.