← Back to previous page
Offers
... Splash! StoryBath Time!! Plongez dans les contes! ...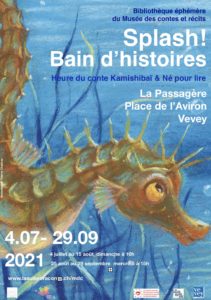 Atelier/ Séances Kamishibaï
SPLASH! BATH OF STORIES!
" For everyone to dlve into the world of stories, time to share some tales from the world and other invented stories with different supports!" Nathalie Jendly
Agenda 2021
Ephemeral library of the Museum of tales
the 4 th of July 29 September
a weekly meeting, the time of a summer,
on the cultural scene of La Passagère, Place de l'Aviron in Vevey
Photo credit: Nathalie Jendly
A dive into children's literature for all audiences
Photo credit: Amina Jendly
with simultaneously
"Né pour lire"
éveil au livre pour les tout-petits

(0 – 4 years) and their families
qui retrouveront chaque semaine un choix d'albums choisis pour eux
with a selection of Kamishibaïs – tales of the world and other invented stories whose readers can share the narration in pictures at their leisure in the small wooden theater of Japanese origin made available!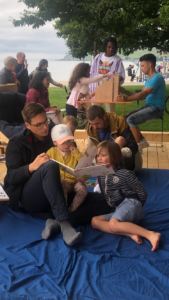 Photo credit: Nathalie Jendly
Sundays at 10:00 a.m. (4, 11, 18, 25 July – 1st, 8 and 15 th of August)
Wednesdays at 3 p.m. ( 25 th of August – 1st, 8, 15, 22 and 29 September)
https://www.facebook.com/LaSuisseRaconte/photos/a.667188669964670/4723609314322565
Vevey, Place de l'Aviron (Quai Maria-Belgia 18, next to Jardin Doret)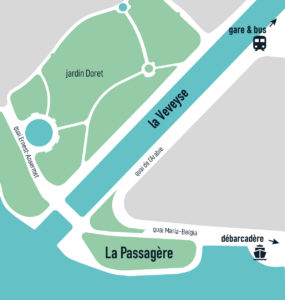 For this summer edition 2021, The Museum of Tales and Histories would like to sincerely thank for their support and invaluable help: the association of the Passenger, the City of Vevey, Bibliomedia Lausanne, les bibliothèques de la Ville de Lausanne, Callicéphale editions, Amina Jendly, Nathalie Jendly, the ISJM, Cindy June Werner, Francoise Jordan, Payot and Symphorien bookstores.
On request for all occasions and all places!
festivals, theaters, libraries, museums,book fair,, schools, museums, House of fairytales,, Book Fair, Japanese conventions, holiday workshop programs, in swimmingpools, birthdays, etc..
+ info, contact by phone or info@lasuisseraconte.ch: +41 78 753 31 36
offered by the Museum of tales and stories "outside the walls"
en collaboration avec la Suisse raconte (promotion des contes et de la lecture en Suisse)
Projet conçu par Nathalie Jendly
Interview lors des Matinales, Space 2, RTS, 25 July 2016
Dive in the stories's universe with the support of the kamishibaï "Splash! StoryBath Time"
Vidéo RTS – Couleur 3 – Yatta / à visionner sur Facebook – "Baby Wifie"
pour les piscines – bibliothèque hors les murs 2014
Création conçue en 2014, then presented in particular to
Aubonne, lors des 125 ans le la Société d'Apiculture de la Côte vaudoise à l'Arboretum,
Aigle festival de la Fête des Couleurs et
Lausanne, ephemeral library in place de la Riponne / Lausanne-Jardins (the 14 juin au 5 October 2014)
Bellerive swimming pool in collaboration with the libraries of the City of Lausanne every summer of 2015 with 2018
Lausanne at the Espace jeunesse bookstore of Fnac
Vevey, summer july 2020 – Inter'Sel annual meeting
Commemoration of the anniversary date of 150 years of & rsquo; friendship and diplomatic relations between Switzerland and Japan