← Back to previous page
Discovering stories
... Landslides Leytron ...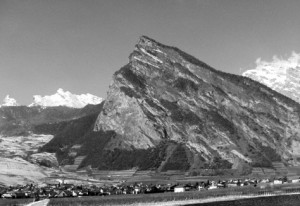 Louis Courthion RCL Ardon Leytron Chamoson Editions A la Carte
Ah ! quel saint homme que le curé Maret ?
For nearly two centuries, his tomb leads to the village of Leytron as pious women of Valais.
Il est mort en odeur de sainteté et sa mémoire doit survivre à notre génération comme aux précédentes !
Quel saint homme que ce curé Maret !.. A man to whom all the wiles of evil spirit failed as a drop of water in a Limekiln !
But let our story.
Once, it is not clear, – 300, 400 years perhaps - the diablats rushed into the plain between Saillon Leytron and prosperous part of the hill which dominated. This great mass of good land on which today stretches in the midday sun the hamlet Montagnon, was for them an incomplete task. Also, each spring, advantage of snowmelt and thawing, l'infernale bande ne précipitait-elle pas toutes les nuits des blocs de rochers mêlés à des tas de terres arables ?
Not a year went by without a new scar does dessinât the sides of ARDEVA. The beautiful lawns of the mountain tore them to meet lower fields and vineyards.
It was unbearable. It had to end. The population there was more. If we do not take advantage of the priest, à quoi peut bien nous servir d'avoir un saint homme ? blasphemed the most irritated. Une délégation se rendit chez le digne prêtre :
« Mocheu le curé, you who have so good inspirachions of God, You must have often deal with good souls in paradise. You will have much merit to overcome diablats that does not stop a holes[1] of déchable[2] down the land to put the bad on the right.
Prove see once notify to go up there at midnight to prevent it, or to hunt witchcraft. Than not that they will drop out of us holes qui vient tout ce qui pourront tant qu'à la pointe de l'Ardeva ».
- I'll go tonight. Rentrez et priez ! dit le curé.
The same evening, to 10 and a half hours, he would started with a small bottle of holy water and a brush, to arrive at the desired point to midnight, heure fixe du sabbat. He took way through the vineyards that line the base of the hill and landslides or avalanches tore at each moment.
At the first signal of the diabolical representation, the priest was on the wrong places.
Inutile ! made a deep voice, it is good for a while, your holy water, This place belongs to us, nous n'en avons aucun autre !
On behalf of the Supreme God who rushed you into the eternal flames with your father Lucifer, replied the holy man, je vous ordonne de fuir et de ne jamais revenir troubler le silence de ces lieux !
To speak in the name of our powerful enemy, il ne faut pas avoir un pied sur la pente du vice !… was a tone winner phosphorescent figure in the shape of a huge ibex pipe-smoking.
– Sur quel fait appuies-tu ton accusation ? asked the priest with good-natured Leytron.
- It is fortunate for you that is your fault that venial.
– Mais quelle faute ?
– N'as-tu pas l'habitude intempérante de boire quelques verres de vin lorsque tu fais des courses pour ton abominable ministère ? asked the ibex.
The parish benefits grant me the right to serve me a horse for my races. But I do take the point, finding it less expensive for my poor sick to give me a simple glass of wine.
The smoker ibex sneezed and fell silent rage.
The top branches of a sickly tree remained standing on the abyss, un gigantesque vampire de couleur jaunâtre interrogea :
- Do not you ate a piece of sausage in the morning of the holy day of Ash, en rentrant de donner l'extrême-onction à un moribond ?
- This is false replied with the utmost composure the good priest, it was the night of carnival… J'ai abandonné la dernière bouchée en voyant surgir la Poussinière derrière la crête de l'Ardeva !
From under a huge block that buckled between the rings to precipitate in the valley, a huge gaudy viper black and white asked in a shrill voice, dans un sifflotement de syllabes :
- It remains to be seen whether this last night, tu n'as pas passé tout ton temps chez cette veuve de Produit ?
- It was for him to heal a wound, and must make a charitable priest, peu soucieux des jugements téméraires ! And the priest scroll saw and a bunch of monsters, about the cited, other in smoke, in which human forms amalgamated with cloven feet, tubal, tails or wings. Each of them brought his complaint against the sanctity of human dignity. The last, a well-designed body, but with a cow's tail and head of private, s'avança, armé d'un trident pour lui dire :
- When, each fall, you go up to the village of Montagnon say a mass against us, ne prends-tu pas de temps en temps un ou deux grains de raisins à travers les vignes ?
– Oui ! Mais je n'ai jamais disposé de ce bien d'autrui que pour mon assistance : it is hot to the St. Maurice at the foot of Mount.
Already all the satanic company exulted, Feeling defeated the priest, quand ce dernier ajouta avec assurance :
- I even took tonight, en amount, Grapillon a sickle that has forgotten, but, see if I did not ask a Batz on the tip of the stakes.
Decidedly, the priest was invincible Maret. The diablats were forced to recognize its powers.
- We leave, they said, because the Almighty directs through your mouth, but there are evil spirits for immutable rights. Driven from these places, we need to go elsewhere. For you to fix our retirement.
- The ravines of Pierraye in the valley of Bagnes. As, your evil deeds have less effect, replied the priest.
- We have to make the conditions, it is our right, dirent les méchants esprits :
than ever, in the parish of Leytron, trois particuliers ne battent la baratte le même jour ;
than ever, in the parish, trois ménages ne pétrissent le pain le même jour ;
than ever, in the parish, there is 3 births in 24 hours.
Say good to all, the top of your chair to gossip, car, from the violation of this commitment, and we would all start again.
That's why, if we believe the narrator, it is still used in the common Leytron never do or butter or bread into three families on the same day. The tradition is silent on the observation of the third clause.